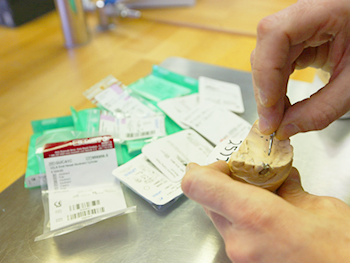 Diverse implant products and procedures are available to suit each individual case. This demands careful planning and consideration of the forces acting on the prosthesis.
Bioart Dental has a dedicated implant department strongly navigated by one of its directors, who works exclusively in that department. He imparts his wealth of knowledge and skill in analysing each implant restoration and engages in many a consultation with the Clinician.
At Bioart Dental we have the capacity to construct single unit implant crowns to complex multi-unit upper and/or lower cross pin prosthesis. We have gained a high reputation in the dental industry from our clients, peers and direct competitors. Bioart Dental is at the forefront of new, innovative technology – which in turn ensures the high degree of craftsmanship and skill are upheld.
Bioart Dental sources the best available implant componentry and offers an unparalleled range of industry systems. Popular choices include: