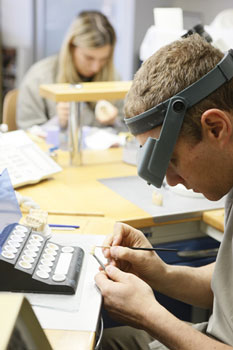 Bioart Dental produces crown and bridge work for a number of leading prosthodontists and general dentists in private practice across Australia, including being the principal supplier of crown and bridge services to Dental Health Services Victoria. We service a multitude of surgeries all over Australia. This diverse client listing is challenging and rewarding as it drives us to meet different expectations of service and delivery.
We have a clear ability to exclusively tailor our business structure, systems and resources to facilitate the service demand of different Clinicians, including you. Porcelain Fused to Metal (PFM) crowns are one of dentistry's primary restorations of choice.
We offer a range of alloys to suit both the needs of the Clinician and the restoration type. More specifically, alloy options include:
• White Bonding Gold
• Yellow Bonding Gold
• NP Co/Cr
• Titanium
All the above-mentioned alloys are TGA approved and display a significantly high level of biocompatibility. The rising cost of gold has influenced Bioart Dental to seek cost saving alternatives that are still compatible with our ceramic systems.
Extreme care has been taken in finding strong aesthetic price effective options.
The metal framework forms a durable solid base for a crown or bridge and therefore it is possible to span even large tooth gaps with a metal ceramic bridge.