Bioart Dental brings a smile to Clinicians with:
Service Ethos – personalised and prompt
Materials of outstanding quality
Integrated logistics ensuring prompt delivery
Leading edge technology
Exceptional craftsmanship and experience
Bioart Dental imparts a methodology that a happy organization is a successful organization and we are proud of our harmonious working relationships with staff and external parties which reinforces our reputable status within the dental industry.
Bioart Dental's primary objective is to provide quality goods and services in an efficient manner without compromising quality or client satisfaction. Work is completed using the highest quality materials, techniques and the most innovative technology.
Bioart Dental is a highly regarded business owned and operated by 3 directors with an established standing of extensive experience in the industry of dental technology. Together, all three directors can draw on a combined total of 80 years experience. All 3 directors trained and worked at the state's leading public health agency, Dental Health Services Victoria, and worked in the crown & bridge department learning skills and acquiring exceptional technical knowledge.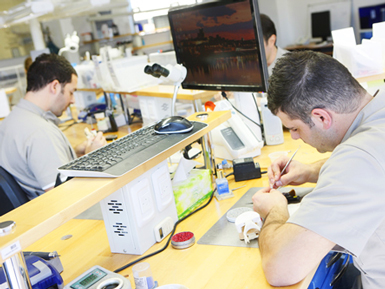 This training has set the foundation for Bioart Dental's exceptional work ethic. It also cements Bioart Dental's implicit understanding of the high expectations and standards requested by Clinicians and its committed supply of such deliverables. Every case is unique. End results are critical. Prompt remediation of dental problems is Bioart Dental's focus. Our consistent ability to meet deadlines has been proven time and time again. No job is too difficult. Tighter deadlines have been met and can continue to be met as this high standard of consistent efficiency and quality forms the backbone of our service deliverables.
Quality and client satisfaction are an integral facet of the company's methodology.
Beyond technical excellence, we can support the Clinician with practical details to help every case run smoothly:
One-on-one Consultations - with the clinician to help select the ideal product and technique for the patient.
FREE shade consultations – representing Bioart Dental's pledge to customer satisfaction as this service secures the consistency of colour matching which in turn ensures a superior quality product.
FREE use of in-house surgery for try-ins at either metal or bisque bake porcelain stage, allowing all three parties to be present at a critical stage of the case, prior to insert. This free service shows how we are keen to work together with you to achieve the optimum aesthetic result. A collaborative consultation at this stage of the construction process is an opportune time to ensure all parties are happy prior to insert. This helps reduce the number of chair-side adjustments.
Continual improvement via professional development and concentrated research is integral to our ability to adapt to the changing dynamics of the dental technology industry. Consequently, extensive knowledge has been acquired in the areas of Crown and Bridge Technology, Implantology & Material Science.
Bioart Dental's company vision is to further cultivate its current commitment to excellence and to continue to set the benchmark in quality crown and bridge and implant services. This is paramount to our success and Bioart Dental's footing as a leading player in the cosmetic and restorative dental industry.